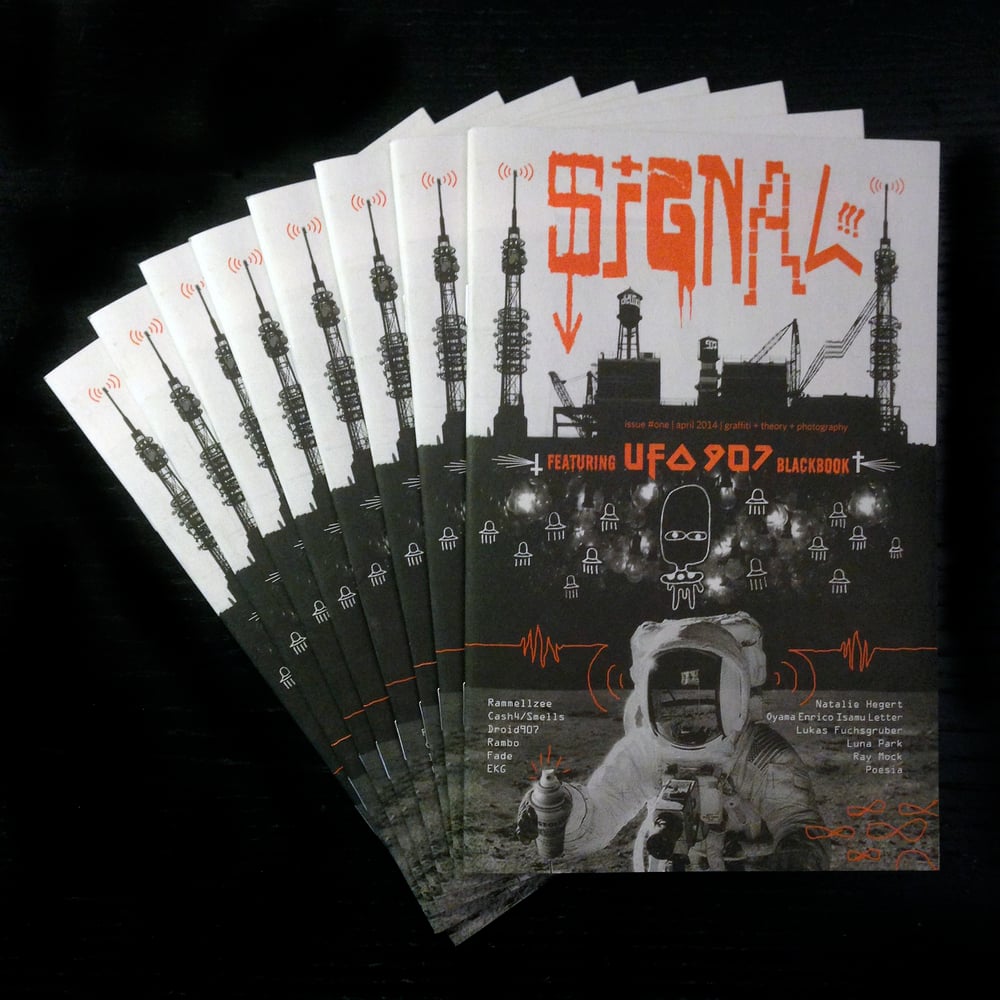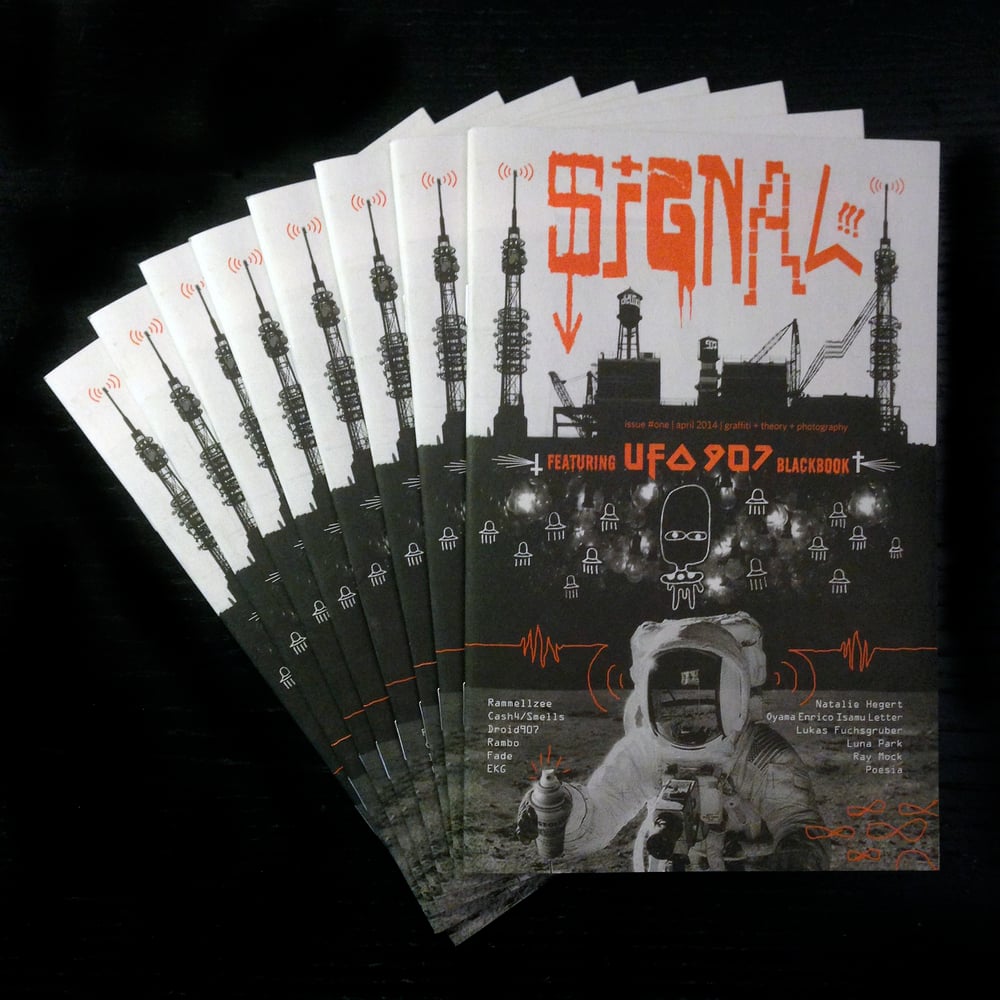 SIGNAL! #one
$12.00
SIGNAL! #one
A zine/journal containing
graffiti, theory and photography.
PREVIEW PAGES: http://bit.ly/1peIfs0
(copy and past above URL into your browser)
PRODUCTION NOTES:
5.5" x 8.5"
48 pages
2-color offset print
28lb off-white newsprint
edition of 2k
april 2014\
NOTE ABOUT TAXES:
Big Cartel recently started collecting mandatory state sales taxes.
NOTE ABOUT SHIPPING:
It may take me up to two weeks to fulfill your order. If you are overseas then you might be waiting a month for delivery. Thank you for your patience.
EDITOR'S STATEMENT:
SIGNAL! #one is a hybrid periodical that blends elements of a graffiti zine with those of an intellectual scholarly journal. The design has been influenced by everything from David Schmidlapp's International Graffiti Times two-color hand-collage broadside, to Alan Benedikt's 12ozProphet precisely gridded computer-aided layouts, to the avant-retro look of Rudy Vanderlan's Emigre design journal, to the modernized old-timey newspaper feel of Dave Egger's The Believer literary journal. As for my editorial texts in the zine, I utilize a voice that indiscriminately meshes the unique aesthetic ideals and terminology of Graffiti with the historical concepts and vocabulary of Fine Art. Basically, I'll use anything it takes to explain why this art form is insidiously effective, culturally relevant, intellectually deep, and singularly unique. Highbrow or lowbrow? Nofuckingbrow! At this point it truly shouldn't matter anymore because Graffiti has undeniably been a powerful, singular, and culturally relevant art form for forty-five years, and the globally dominant art form for thirty. Therefore, utilizing the above strategy, SIGNAL! is here to add another rung in the ladder of proof to the elitist detractors. With so much evidence having stacked up over the years, Graffiti should no longer be perceived and prosecuted as merely vandalism perpetrated by megalomaniac antisocial teens, but a positive and powerful cultural change agent practiced by conscientious objectors of all ages.
CONTENTS:
02 contents + copyright
04 mission statement
06 lukas fuchsgruber
07 oyama enrico isamu letter
10 means of broadcast
12 fade one: doodle bomber
16 rambo: gifted slayer
20 UFO black book session
24 droid and ufo
26 a roller alphabet by droid
28 smells and cash4
32 rammellzee by natalie hegert
38 aetherial semiotosphere
40 a major minority by poesia/ekg
46 black metal wildstyle
48 contributor notes
CONTRIBUTORS:
UFO 907
has become a NYC legend after 25 years of Outsider Art-style graffiti, depicting a child-like alien and getting up utilizing the methods of a hardcore vandal.
DROID 907
is a get-in-the-van, ride-the-rails, DIY-lifestyle graffiti writer with a penchant for painting massive rollers with a blunt political voice across the country.
CASH4 + SMELLS 907
have put in a ton of work the past 5 years and are currently roller kings of Brooklyn and NYC, each with their own unique style on and off the street.
FADE ONE
is another NYC legend, up for 25 years, who has distinguished himself with a frenetic doodle-bombing style: tweaked tags, twisted outlines, manic pieces.
RAMBO
is another long-time NYC head. He is always everywhere, holding down fame spots as well as cutty graff destinations with a unique poetic voice & classic style.
RAMMELLZEE
was a late-70s writer who became an original legend of graff for his visionary theories, AbEx paintings, pop sculptures, and hip hop performance in Wildstyle.
POESIA TRANSCEND
is a graffiti writer from SF in the late-80s; was an early member of Transcend; and became well-known for abstraction. He is the editor of Graffuturism.com.
OYAMA ENRICO ISAMU LETTER
is a painter influenced by Wildstyle and one of Japan's premier theorists on graffiti. He is in NYC for a residency and has had a show at Clocktower.
LUKAS FUCHSGRUBER
graduated with a Masters in Art History from Berlin Institute of Technology. His focus was 19th century French art, but he also loves to write about writing.
RAY MOCK
aka Carnage NYC is a photographer, who has also become recognized as a brilliant producer of high-quality graffiti-related publications, t-shirts and prints.
NATALIE HEGERT
is editor-in-chief for ArtSlantSTREET.com. She received a Masters degree in Art History from Hunter College with a thesis focussed on early graffiti in NYC.
LUNA PARK
is a Brooklyn-based graffiti enthusiast, photographer and co-founder of The Street Spot blog. Exhibited in NY, LA, and Chicago, and in many books & mags.
ROYCE BANNON
is a highly regarded art curator, a crowd bumping DJ, and the graffiti columnist for The Source magazine. His moody monsters are lurking in every doorway.
EKG
is a graffiti writer, pixilated painter, art journalist. Editor/designer of this journal. Exhibited: Pandemic Gallery. Published: Graffuturism, Vandalog, ArtSlantStreet, BrooklynStreetArt.